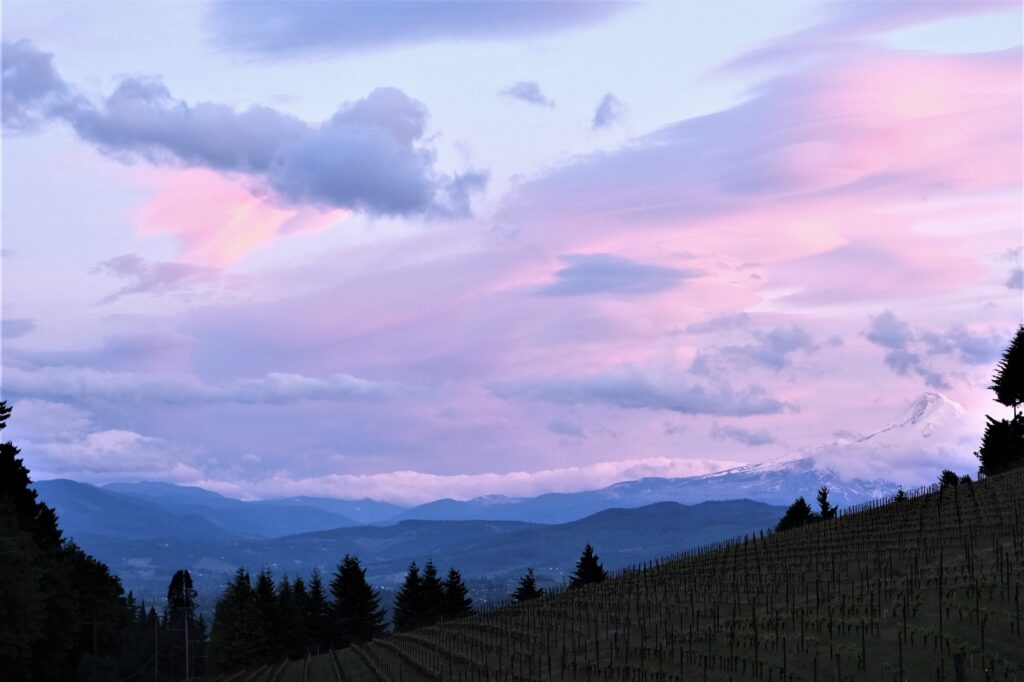 Loop de Loop wines' Light Anthology Vineyard, sits at 1250 feet on Underwood Mountain, with a panoramic view of the Columbia River and Mount Hood. Formerly known as the Underwood Mountain Vineyard, It was planted in 2001 by Joe and Jack Brady, and we fell in love with it long before we were able to buy it. We grow Pinot Noir, Chardonnay, Riesling and Gruner Veltliner, in a vineyard nestled between two forests and surrounded by incredible biodiversity.
The Light Anthology Vineyard is our 9 acre, organically farmed vineyard that Scott farms meticulously – practicing regenerative farming.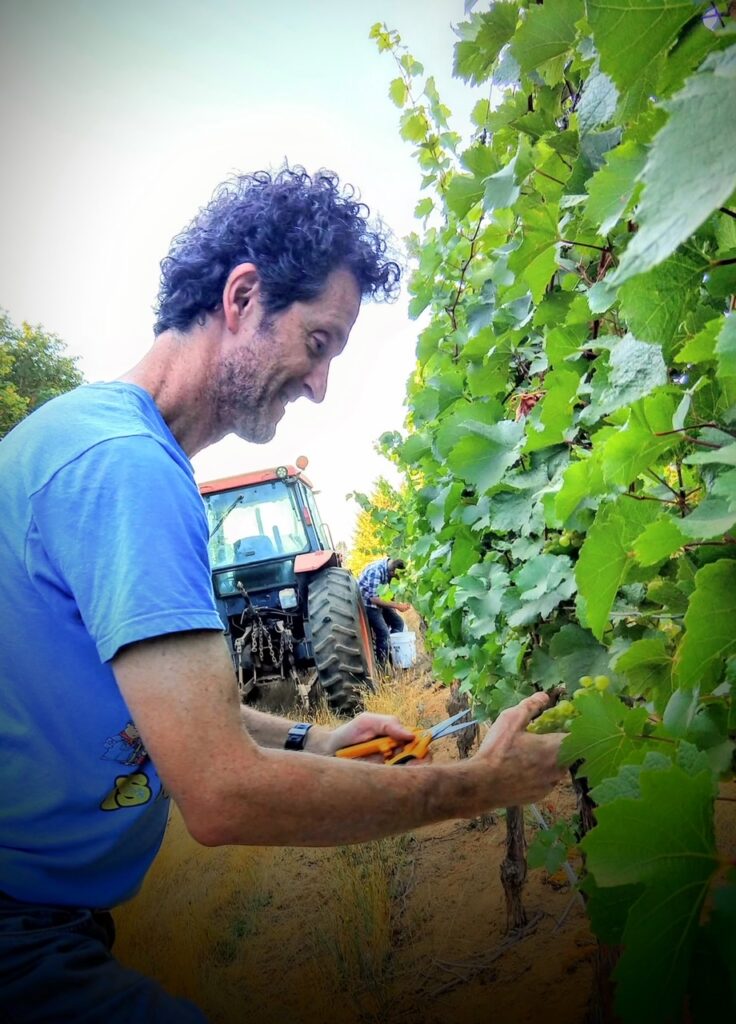 Next to the vineyard we have an additional 8 acres of woods and meadow. We are working to restore the land and, with the help of friends, have planted hundreds of native plants, grasses and flowers in an effort to cultivate a healthy, holistic system that will ultimately produce the best wine possible. Scott's most important task is restoring the soil health in the vineyard. He is doing this through incorporating the following practices, among others: encouraging diversity in the vineyard floor; seeding diverse cover crops; thoughtful composting; spraying compost teas; use of fish hydrolyse to encourage beneficial fungi and by spraying cinnamon oil rather than sulfur whenever possible. He doesn't use synthetic chemicals and he doesn't spray copper. Additionally, he has hung Barn Owl and Raptor boxes to help with rodent pests. We do not till nor irrigate and hope to incorporate livestock into vineyard care soon.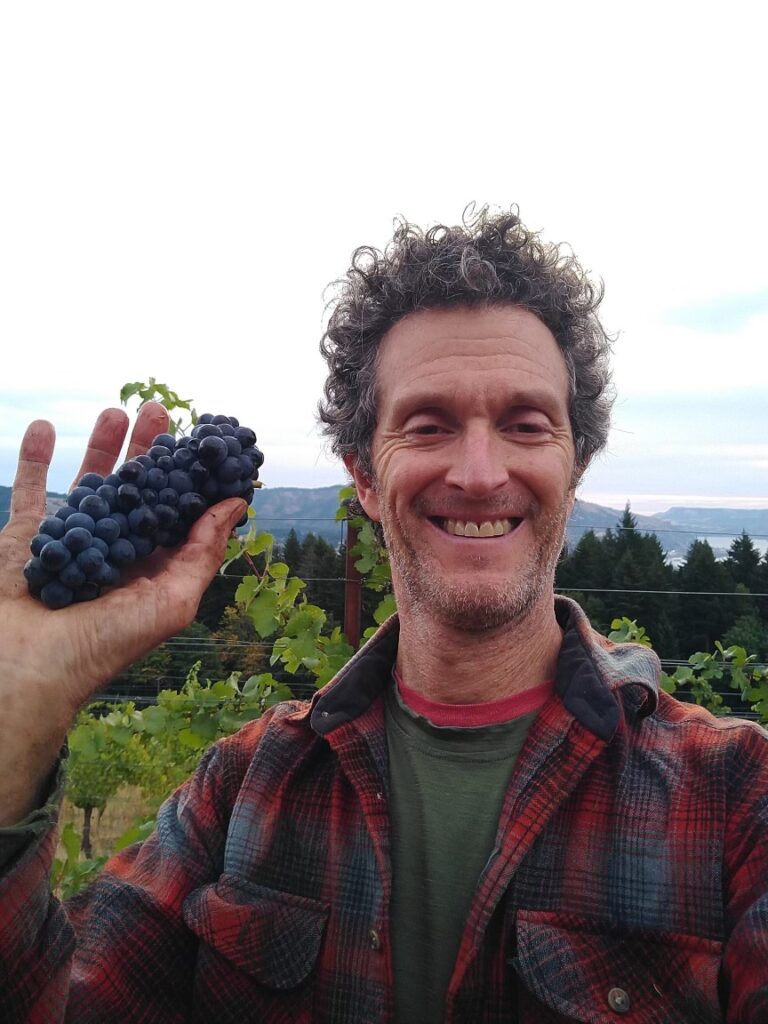 The soils from the extinct shield volcano of Underwood Mountain are made up of well-draining volcanic loess and loam. These soils are unique to Pacific Northwest wine regions. They can be as deep as 80 feet and retain moisture well, allowing us to dry farm at our Vineyard. The vines have deep roots that extend up to 30 feet deep in the nearly rock-free soil.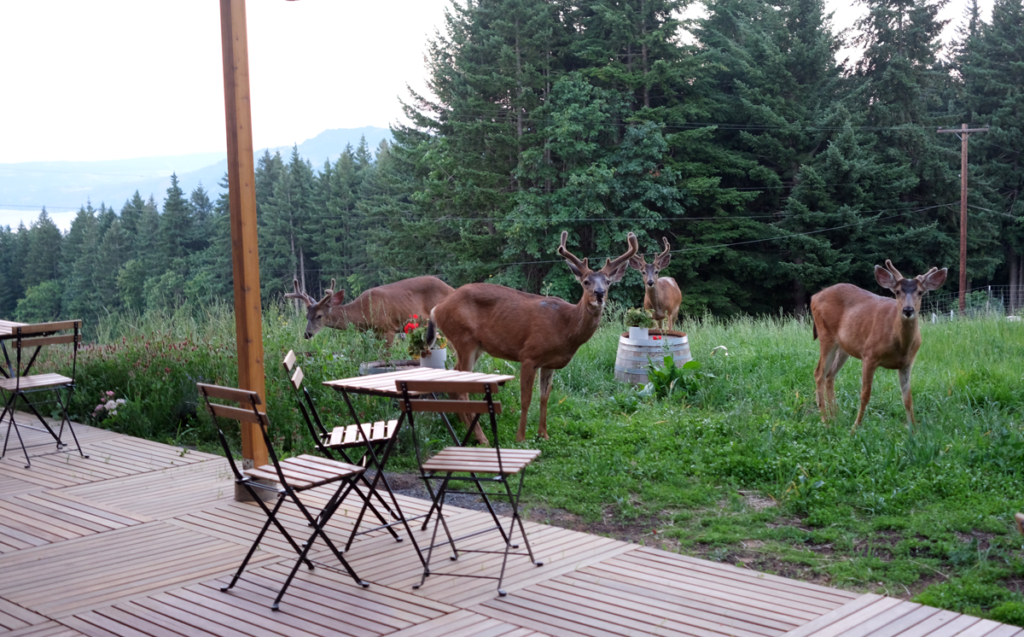 Wines from Underwood Mountain consistently show unique mineral characteristics, along with brighter acidity lending way to Burgundian and Alsation characteristics.
Light Anthology Vineyard is just across the river from Hood River, about an hour's drive from Portland, in the Columbia Gorge AVA. This AVA spans Oregon and Washington, and encompasses an incredible array of microclimates. Our site enjoys the last of the wetter maritime weather from the west. As you travel east from Underwood Mountain, you lose an inch of annual rainfall for every mile making this site distinctly different than vineyards found just East of us. Light Anthology Vineyard is a magical site, benefiting from the sun exposure of a Southeast-facing slope, the temperature moderation of the Columbia River, and the maritime influence from the Pacific.