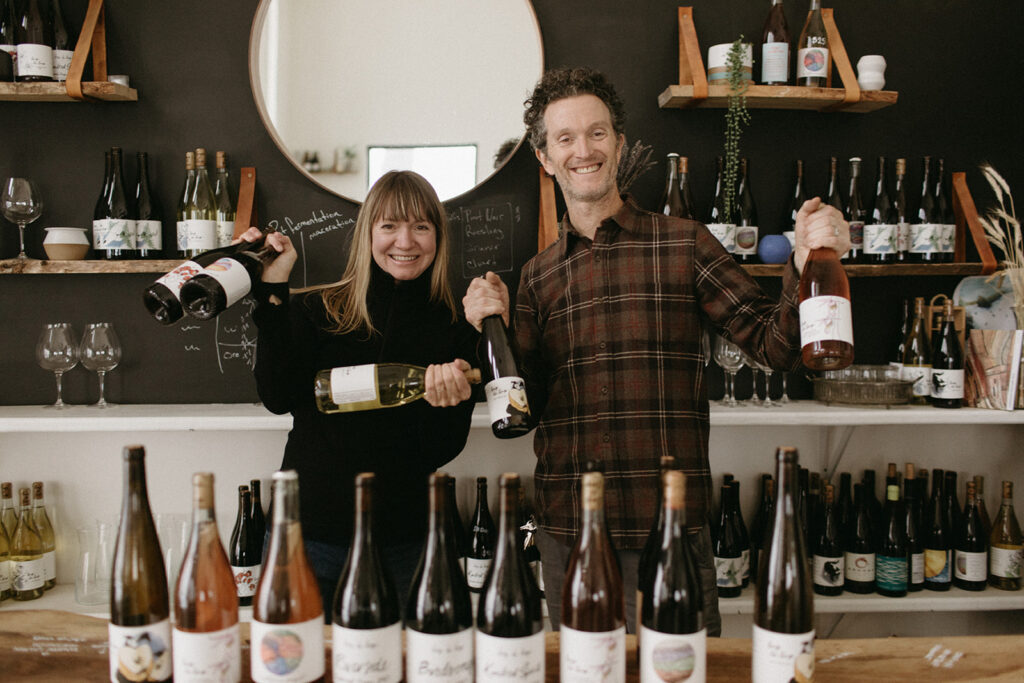 We're open! Visit us Friday-Sunday 1pm-5pm, no reservations required.
Loop de Loop wines are high-altitude wines created by Julia Bailey Gulstine, and Scott Gulstine. Our winery and vineyard are on an extinct shield volcano on the edge of the Cascade Mountain Range (Underwood Mountain) just over an hour from Portland. We make vintage specific wines that speak of the places they are grown – and these are some very special sites. Our own Light Anthology vineyard is planted at 1250 feet in elevation, with volcanic, ashy-sandy loam soil on a 33 degree slope facing Southeast. The vineyard is also facing the Columbia River which plays a key role in allowing grapes to be grown here without frost problems. The wines from this little mountain are bright, focused & intense – they are savory, aromatic, lithe, elegant, often mineral and sometimes even saline.   
Our Cellar
In the tradition of Burgundian "old-world" wines, all of our wines are fermented with wild yeasts that come in on the fruit, out of the vineyard. Julia practices low-intervention winemaking, letting the fruit & fermentation guide the process and her actions in the cellar. She doesn't have a predetermined idea of what the wines will become, rather, she sees her role as their shepherd while they find their path. Generally less than 20ppm sulfur is added to the wines, and nothing else. The wines are bottled unfined and unfiltered.
The Light Anthology Vineyard is our 9 acre, organically farmed vineyard that Scott farms meticulously – practicing regenerative farming…MORE